Food and Beverage Construction
At the forefront of food and beverage construction
Raising standards in food and beverage construction
Shifting demands. Fierce competition. Stricter safety protocols. Food processing and manufacturing moves fast. From agile operations to innovative lines, the industry needs facilities that are ready for the future of food and beverage. Call on Boldt to be your food and beverage construction company.
Food and beverage construction overview
Tap innovative solutions
From meat processing and beverage plant projects to dairy, bakery and pet food processing, Boldt provides a future-focused approach. Collaborating to move safe solutions to market, faster. Completing complex equipment installations with minimal disruption. Self-performing to maximize budgets, timelines and results across beverage and food construction projects.
Meat / Plant-based protein processing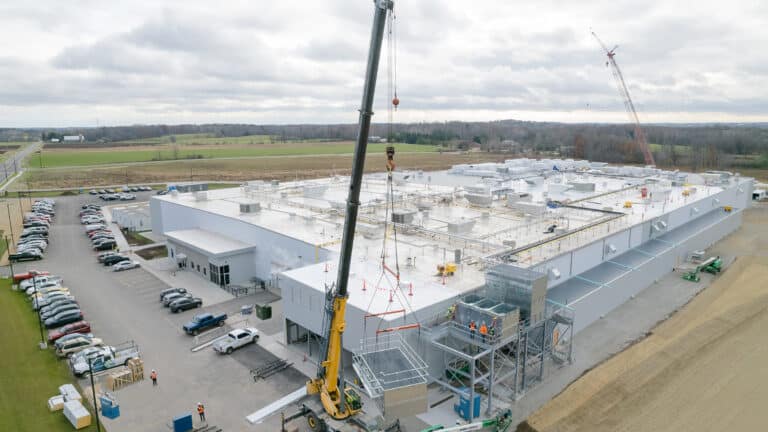 Salm Partners
Meat processing plant construction
Food safety and sanitary measures are essential with meat processing plant construction, especially when working within an existing meat processing plant. For more than 80 years, Boldt has been delivering meat processing plant construction projects of all sizes—including in the emerging plant-based / sustainable protein market—helping our clients renovate, expand, maintain and manage equipment installation in some of their most sensitive facilities—on time, on budget and with a focus on collaborative construction delivery.
Beverage plants
MillerCoors – 10th Street Brewery
Beverage plant construction
Clean-in-place, dosing, refrigeration, sanitation, bottling, packaging, monitoring; if you want a beverage processing plant that runs at max efficiency, you need a turnkey construction approach—backed by decades of experience. From new dairy filtration and cold storage facilities to brewery equipment installs, beverage companies tap Boldt to reach peak performance.
Dairy plants
Milk Specialties Global
Dairy plant construction
Boldt grew up in America's dairyland and has long since built a reputation for reliability, safety and innovative, collaborative construction delivery with dairy producers of all sizes. From intake and filtration, to warehouses and freezers, our portfolio and technical expertise makes Boldt a valuable construction partner in dairy plant construction, maintenance and equipment installation.
Pet food processing
Freshpet – Project Snoopy
Pet food plant construction
Modern pet food processing plants need to meet changing consumer demands for higher-quality products. From new plants to preventive maintenance, our approach elevates traditional pet food plant construction to meet market demands, with quality and reliability that set a different pace.
Fresh pack / Frozen / Snack foods
Confidential Client – Freshpack Facility
Fresh-pack, frozen and snack food plant construction
When the world demands ready-to-eat, you have to be ready to deliver. With technical and self-perform capabilities, we push construction norms to boost production and return on investment—from conveyor installs and equipment alignment to state-of-the-art snack food plant construction.
Collaborative, innovative construction
Envision every food and beverage project starting with innovation. Where schedules are certain, costs are controlled and "state-of-the-art" is always constructable. That's why producers of all sizes, from local processors to Fortune 500 producers, tap Boldt as their food and beverage construction company of choice. Proven problem-solving. Innovation at every step. Collaboration that feeds new ideas and builds with confidence—without interrupting flow.
The right ingredients for extraordinary construction
When you've been a food and beverage construction company food processing and manufacturing construction since World War II, you pick up a thing or two. With Boldt, you get the power of a true partner—an integrated team at the table early, because we know that the best ideas come from having the right minds in the room. Whatever the project, expect flexible food and beverage solutions that help you respond to market needs faster—from a construction company that builds boldly.
Turnkey approach to project delivery
National design-build leaders
Engineering, hoisting, rigging and leveling services
Extensive Self-perform capabilities
Industry and FSMA regulatory compliance expertise
Ready for a construction company that builds boldly? Let's talk.
Food and beverage construction news and insights